Progressive Games
Winning a life-changing jackpot has happened to a lot of people who play the Progressive Games and it can happen to you too. At Drake Casino we have a large selection of Progressive Games that offer massive jackpots that can be won at any time. Start playing these games now and you never know you could be the next big winner.
A progressive slot game could potentially be life changing
What would you do with a four-figure prize or even a five-figure prize? Could you even conceive of winning a huge seven-figure jackpot on a slot game?
Few of us will ever get that experience, but there are some fortunate players who did get it. Their lives certainly did change as they found themselves on the receiving end of a huge sum of money.
Winning a progressive jackpot is unlikely to happen given the odds that are stacked against you. However, these games are still great to play and offer numerous other prizes you could get instead. And of course, there is still that chance you could end up claiming the biggest prize of all… even if the likelihood is that you won't. It's that idea of never knowing for sure that is so appealing, isn't it?
Check out a few of our best progressive slots to try today.
Ocean Life slots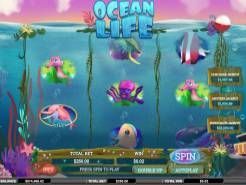 This is a simple three-reel slot with just one payline, but the appearance makes it look very unlike most other three-reel games. There are no fewer than three progressive jackpots here too, highlighted to the right of the reels. Since the game is based on ocean-going life, you can expect lots of sea creatures to pop up under the waves as you play.
Tycoons slots
A marvelous 3D slot with a progressive jackpot just underneath the golden title… what more could you want? This is a glorious 3D slot game set into the side of a mansion, with all the trappings of a rich life cropping up on the five reels. There are 30 lines, character symbols, wild reels, free spins, and even a bonus round involving a card game. All that and you also get a Click Me feature offering instant credit prizes… if you can trigger it.
Charms and Clovers slots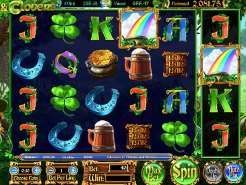 This is a real Irish treat, with a friendly leprechaun watching over you as you play. The five-reel slot contains a special sixth reel too, along with three jackpots climbing in value above the reels. There is the Mini Jackpot, the Giant Jackpot, and the Colossal Jackpot to be won. We guess you'll hope you get a touch of Irish good fortune to snag the biggest one of all.
Around the World slots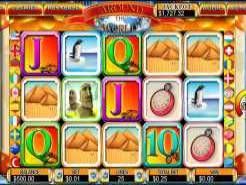 Take a journey around the globe in this entertaining slot game packed with pyramids and other iconic sights. This is a game packed with color and excitement, not least because of the progressive jackpot highlighted to the right of the title. Visit this five-reel slot to start your journey to some exotic locations today.